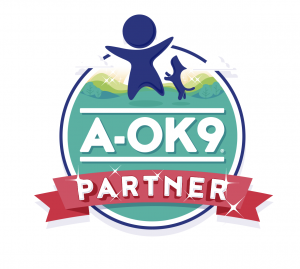 "I'm proud to be a partner of A-OK9. I wouldn't recommend anything that my own dog hasn't used. Do note if you use the links on this page and purchase, I may receive a small commission. Please let me know if you have any questions about anything."

"As a special treat use the coupon code STAVELEYDOGS and you'll get 10% off your first purchase."
Gleam-K9 Towel
THE MULTIPURPOSE SUPER ABSORBENT TOWEL
For dogs that want to sparkle.
The portable, multi-purpose towel that dries, cleans, cools and warms your dog.
DON'T LEAVE HOME WITHOUT IT!
We are unable to guarantee the colour you will receive.

K9-Calm Mat
Lickable fun that's naturally calming too! Our boredom-busting K9-calm enrichment mat puts your dog's tongue to work and his mind at rest.
For hyperactive doggies that need a little time-out, or for a healthy distraction to anxious or "reactive" behaviour. Stimulating lick receptors on your dog's tongue, these groundbreaking mats harness the naturally calming power of licking! This will do the trick!
Simply smear your chosen treat in the holes and let your pooch (and you!) enjoy a moment of peace.
Calming action
Dishwasher safe
Lasts for years with proper care
Easy to store and carry
Use with your dog's favourite treats
Suitable for all dog breeds, shapes and sizes
3 fun colours