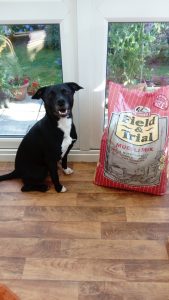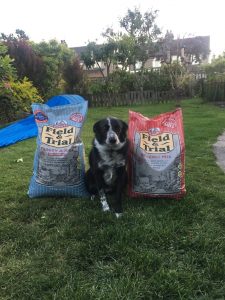 ---
Staveley Dogs recommends Skinners Dog Food. Skinners dog food is produced in Suffolk in their own mill. Where possible Skinners use British produce and grains from the surrounding area. There's a dog food for every age, breed and agility. Below is a list of the Field and Trial dog foods that Skinners offers and the various benefits for each type. Visit the Skinners site to order your sample bag.
Puppy: Chicken Flavoured. A complete all-round puppy feed.
Puppy Lamb and Rice: Formulated without wheat, maize and barley – perfect for large breed puppies.
Duck and Rice: Suitable for puppies with sensitivities or digestive intolerances.
Junior: Chicken Flavoured. Bridge the gap between puppy and adult feed.
Junior Duck and Rice: Suitable for sensitive young dogs and supports brain development.
Working 23: Beef Flavoured. Formulated for highly active working dogs.
Muesli Mix: Beef Flavoured. Perfect to tempt fussy eaters and maintain energy levels.
Large Bite: Chicken Flavoured. Prefect for large breed dogs.
Grain Free (Chicken and Sweet Potato): For dogs with intolerance to grains.
Chicken and Rice: Formulated to reduce the likelihood of skin, coat and digestive conditions.
Lamb and Rice: Contains pasture fed British lamb as a single source protein.
Turkey and Rice: For sensitive dogs and enhanced with Joint Aid.
Duck and Rice: Suitable for sensitive digestive systems.
Light and Senior: Chicken Flavoured. Easily digestible with lower protein & fat levels to assist weight loss and management.
Crunchy: Chicken Flavoured. Digestible carbohydrate for short periods of intense activity. Slows down fast eaters.
Salmon and Rice: Contains sustainably sourced salmon, ideal for skin and coat condition.
Maintenance Plus: Chicken Flavoured. Enhanced with the mobility supplement, Joint Aid for Dogs.
Maintenance: Chicken Flavoured. Formulated to meet the needs of working dogs undertaking light work or at rest.
Superior: Chicken Flavoured. Supports high energy requirements and recommended for bitches in whelp.
---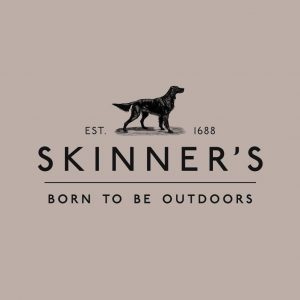 Staveley Dogs - Powered By Skinners Dog Food
Biscotti-Jacks - By Little Wolf & Moon