Couldn't have asked for more !!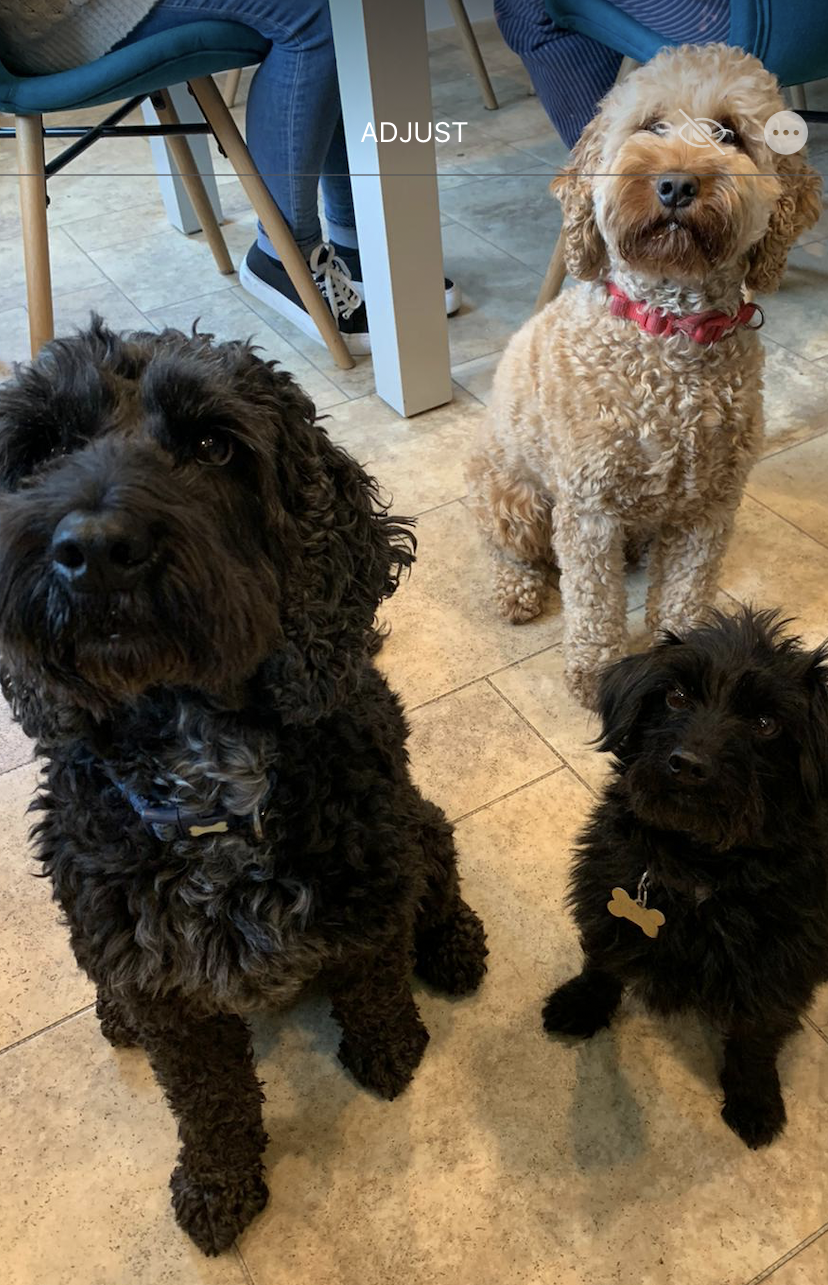 We had a couple of sessions with Laura. She is a very warm approachable lady. She watched the dogs behaviour for a while, and we had a walk, she had spotted the issues straight away.
She showed us how to calm the dogs when walking and also at meals times. The whole house is calmer and manageable.
Her strategies are workable and made so much sense, we worked together ( which I enjoyed as she is fun ) for a few hours then she left us to it.
We had made so much progress when she returned the following week that she hasn't needed to return.
I highly recommend Laura for any aspect of dog care and training. She is passionate about dogs and it shows.
Thank you so much Laura.
Carole Hamilton
Kendal
Beyond Brilliant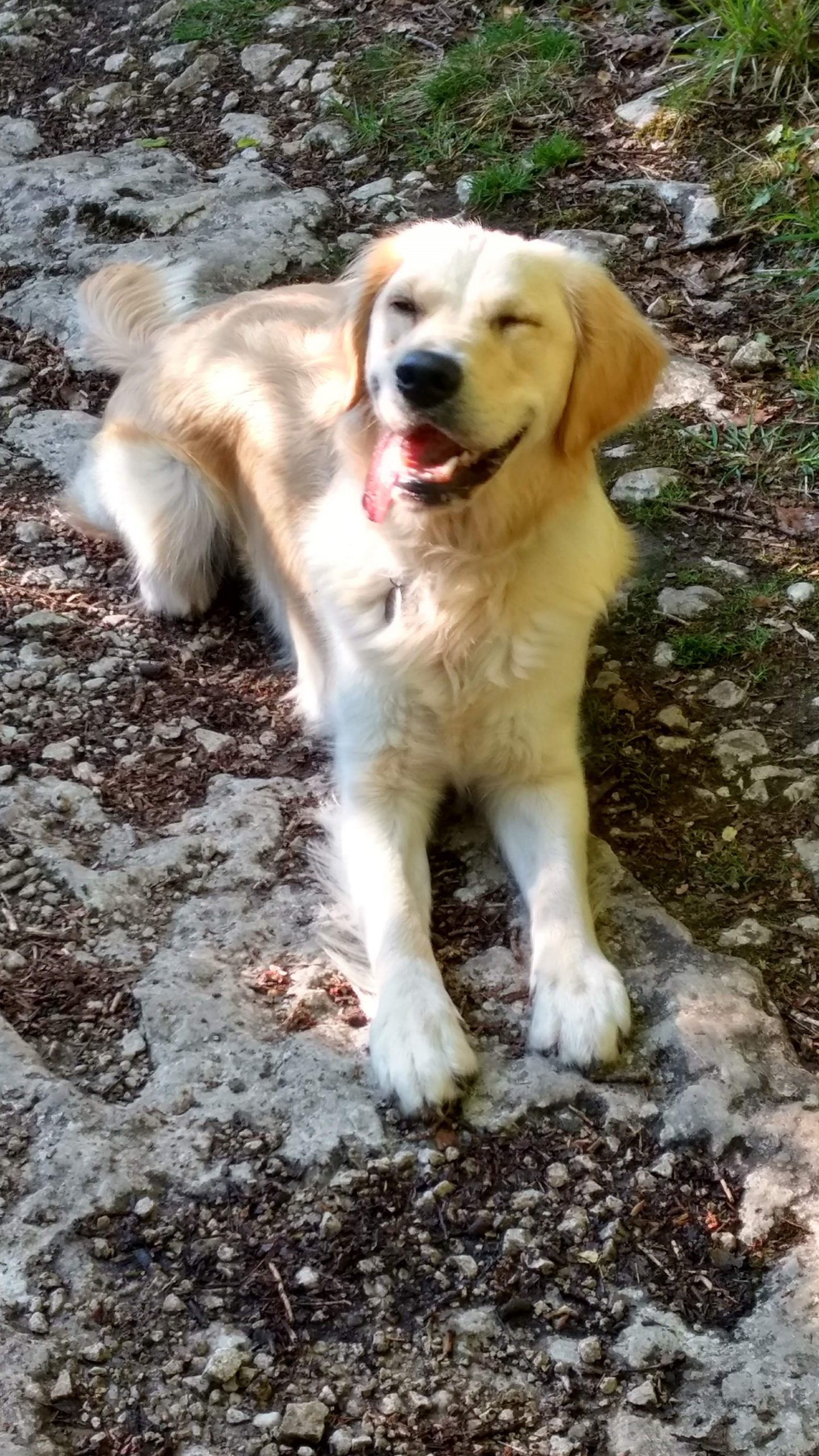 We had volunteered for many years with Guide Dogs for the Blind and thought that we were experienced dog handlers, especially in training puppies from 8 weeks. Then we got Bramble!
We knew, from past experience that Golden Retrievers are stubborn and opinionated, but we found her very challenging indeed, and were in a downward spiral when Laura was the first to reply to my online plea for a dog trainer. We could not walk past other dogs without Bramble lunging towards them in an effort to play and it was impossible for us to walk with a friend with her dog.
Laura has an amazing ability to read dogs and their owners! Bramble responded immediately to Laura's firm kindness and within about 5 mins on our first training walk with Laura, Bramble had been taught to calmly approach another dog. This gave us the confidence to know that she could do it and Laura was then unfailingly non judgmental patient, kind and encouraging, whilst over the next few weeks we gained the confidence to handle Bramble.
During this time Laura also suggested that we had some sessions walking with our friend and her dog and in fact Laura ended up training both dogs. Bramble is now an absolute pleasure to take out and her favourite thing in the whole world is going to stay with Laura.
We have come across many dog trainers over the years and all that I can say is that she is brilliant and I would never hesitate to recommend her to anyone.
Barbara Walker
Storth
A Great Recommendation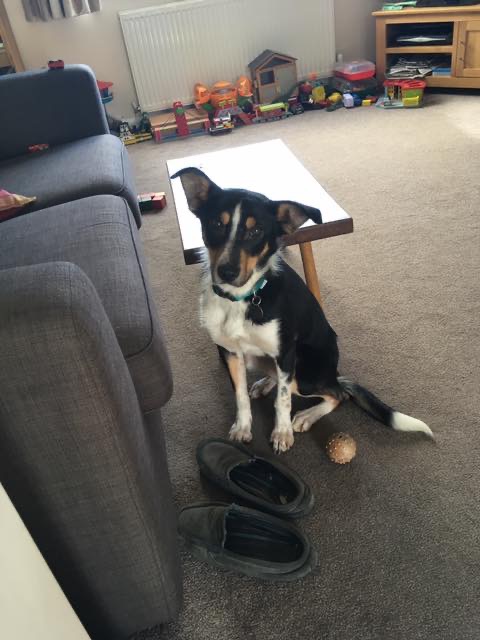 When we were struggling with our one year old collie Jenny, Laura was recommended by a friend of a family member. Although we were experienced dog owners Laura helped us to understand how our actions and behaviours impacted on Jenny.
We subsequently worked with Laura to improve recall and lead walking. Laura's approach was thoughtful and sensitive, she developed a lovely rapport with Jenny and was fantastic in the way she also included our 6 year old son, and encouraged him to participate in the dog training.
We now feel so much more confident when out with Jenny; her recall has improved and we can confidently let her off the lead without fear of her running off. More generally we feel we have a better understanding of our dog and I wouldn't hesitate to recommend Laura to anyone who is struggling with aspects of their dog's behaviour.
Sarah Jones
Ambleside
What a Find!!!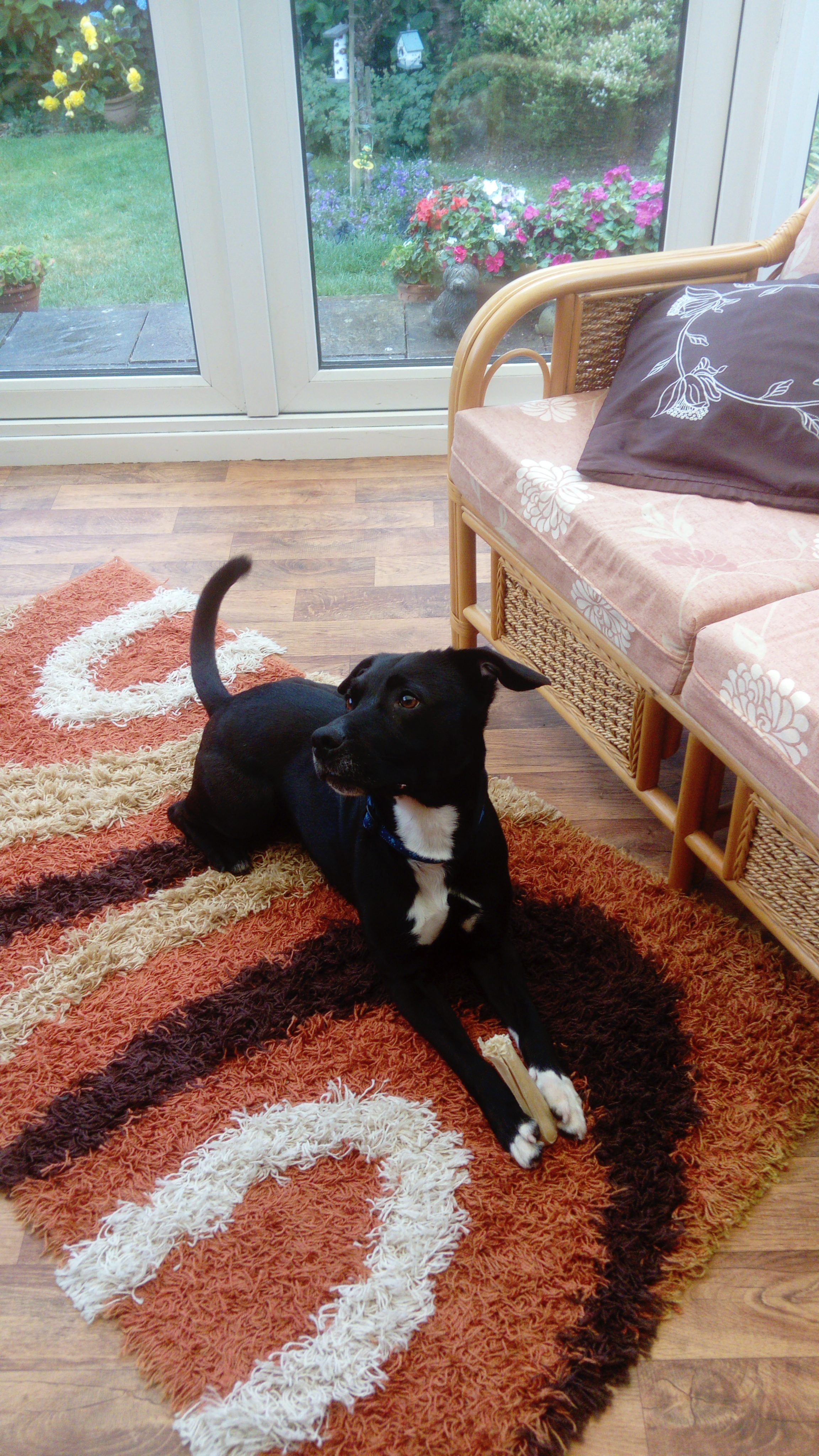 I adopted Buster a 5 year old Staffie crossbreed from the RSPCA following the loss of my beloved Patterdale terrier Jakie. From our very first meeting Laura continually helped me to overcome my grieving for Jakie for which I am indebted to her for.
Little was known about Buster's history. I believe in his short life he hadn't had much stability & only understood basic commands. I don't think he was abused just very neglected. He had been in the kennels awaiting adoption for many weeks before someone adopted him unfortunately they had to return him within a couple of days as as he didn't get on with their cat.
Buster suffered from car anxiety, had separation issues, had limited recall & whilst very lovable needed refining & to be taught some social skills.
She gave me the confidence I badly needed to train Buster, she made me aware of how my emotions/ stress would reflect on him. She "cured" his travel anxiety in one lesson which I would never have believed possible. Nothing was ever too much trouble for her, she was incredibly supportive & possesses skills I have never seen in other dog trainers. She is motivational, caring & truly inspirational. Within a few weeks of training Buster is a new "man", a transformation has occurred within Buster (& me), thanks to Laura's patience, knowledge & understanding!
In addition to his training Buster stayed with Laura within weeks of my adopting him. I was concerned that it would have a detrimental effect on him & all our hard work would have been in vain. Laura was the only person I would entrust to leave him with. She kept me updated of his stay with her & took the time to reassure me that he was having a good holiday & behaving.
I know he'll be well looked after with her if I have to leave him again & this time I would go away without anxiety.
She is highly recommended!
Thank you for everything Laura; you are a truly a very special lady.
Coral Parkin & Buster
Kendal
Great Advice for Difficult Breeds! We're Incredibly Happy!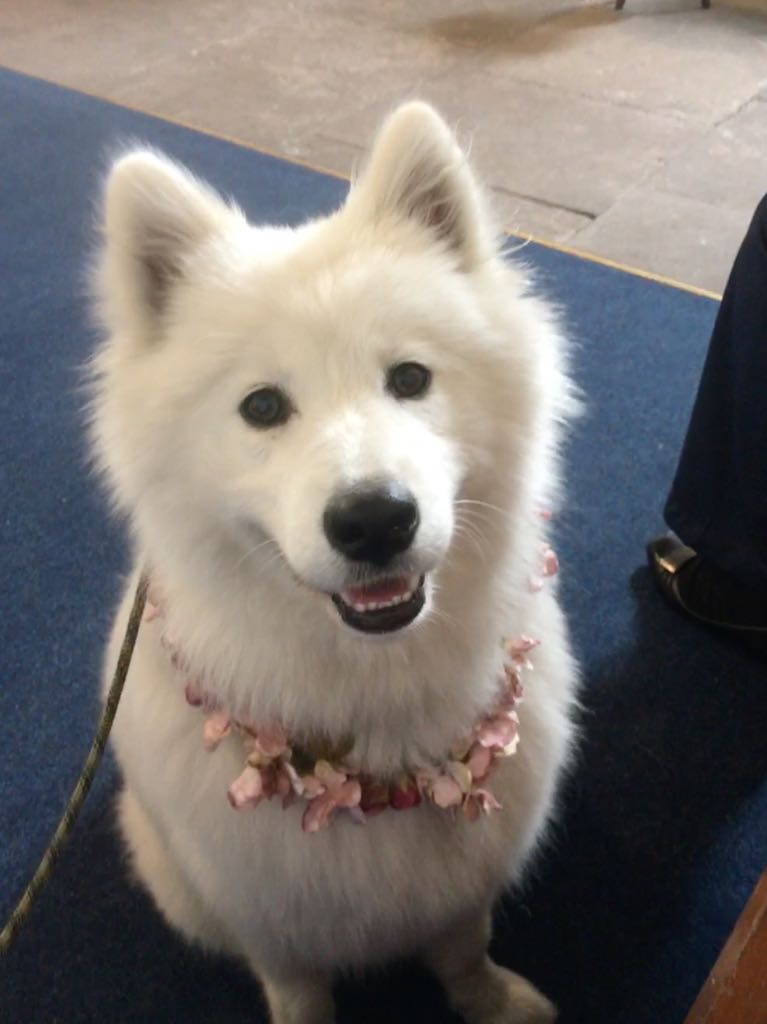 If Laura looks after your furry friend it'll be more than just a walk in the woods – when Holly our – now 1 year old – Samoyed got back from walks with Laura she'd been told not to pick up plastic and sticks off the floor, progressed with her lead training, behaved a little better with other dogs and the latest thing she learned was waiting in the hedge for a car to go by when Laura gave the command 'in'!
After joining puppy classes in Windermere with a lot of other dogs we felt that we were not giving Holly the training attention she needed and we started looking for 1:1 training for her. Especially with her being a Samoyed, a stubborn breed, renowned for barking, chasing small (and big) animals and as she had left her family too early to have learned proper behaviour with other dogs, we wanted to get up to a good start with her training.
Laura's approach was just what we needed. She took time to discuss the problems and improvements we saw every week and all training was targeted to Holly. She worked with Holly and with us for over 6 months on various general training and some more specific issues, especially Holly's excitement with people and other dogs. Holly is now a year old, doesn't jump up on children anymore, has a mostly reliable recall, walks well on the lead, doesn't steal food anymore, barks less and stops barking when we tell her to and meets other dogs more respectfully. Laura has given us all the expert advice and tips we needed on weekly training walks and came up with plenty of useful suggestions such as using a slip lead to discourage Holly from pulling.
I'd wholeheartedly recommend Laura to anyone looking for a good dog trainer who understands each breed and each individual dog and their characteristics and challenges. She's also a great dog walker, reliable and accommodating, and always surrounded by a happy pack.
Corinna Annetts
Staveley
Just Brilliant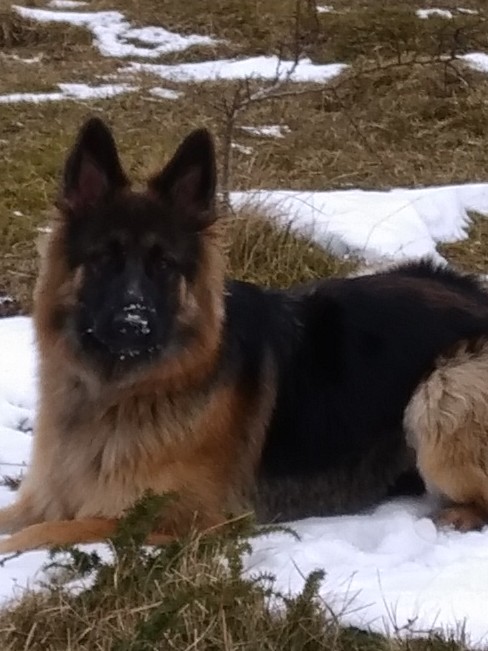 We adopted India a beautiful German Shepherd when she was 8 months old, she had been kept in a outdoor cage, she was under weight and had never been taught how to socialize with other dogs or how to lead walk. She had been bought previously to be used as a guard dog but was a big softy so wouldn't have done a very good job!!!
After bringing India home it soon became clear that she was very anxious, she wouldn't sleep, she would pace a lot in the house, she would bark at any dog that she saw outside the window, she would bark at dogs on TV and it was when we would take her out for a walk we found that she would bark uncontrollably, lunge, stand up on her back legs every time we saw another dog out for a walk. It got to the point that we would have to walk her at 4am when there was no one else around and then in the afternoon I would take her for a field walk where I could let her off the lead as she only reacted when she was on the lead.
I tried all the different methods detailed on the internet, I hired a behaviourist that only came once but made no difference, I would have to hide down alleyways when I saw other dog's coming as the reaction was so intense that it was really upsetting for not only the poor person and the other dog but also for India she was permanently stressed and anxious.We had got to a very low point, feeling as though we were not able to provide a happy life for India or enjoy the beautiful puppy that we had brought home this was when we had put a message out for help.
Laura contacted us, she would work with us for the next few months, she would meet us once a week and would carefully start desensitizing India to seeing other dogs whilst she was on her lead, not many people are familiar with leash reactivity unless you have had a leash reactive dog yourself, it was in this training that we would learn to not only how to walk past dogs without India reacting but also how to not be anxious yourself when passing the other dog as when India had reacted in the past you came up against a lot of negative reactions from other people which had damaged our confidence.
Fast forward to now India is a completely different dog I can now walk past any dog without any barking, she still gets very excited and would love to play with any dog she sees,but I can now walk right through town and even Windermere at its busiest! With dogs everywhere I am completely confident that India can handle the situation and be finally comfortable with her surroundings it has been amazing to see India being able to enjoy her walks, she now looks happy, comfortable and not always on edge, she even sleeps too. I can't recommend Laura enough she put in so much time week after week and was not for giving up on India, she is just brilliant…..
Jennifer Longcake
Kendal
Professional Service With a Great Outcome
Flare is a two year old Labrador whom we bought from a breeder when he was 14 months old. He was generally very well behaved at home with us but he struggled to accept my adult son who lives with us on weekdays but goes away each weekend. Flare would bark at him whenever he came in or moved around the house and sometimes this behaviour would include nips and growls. We had made several unsuccessful efforts to deal with this using information gathered from books or the internet and were beginning to despair when we contacted Laura.
Laura visited us to meet Flare and the family and to witness the behaviour, and she then provided advice and strategies for various situations and demonstrated with Flare how this could calm him. We put these measures in place and a follow up visit was arranged when she commented on the improvements in his behaviour and gave us further advice, and by the time Laura made a third visit we were pleased to demonstrate that Flare and my son are now best friends and the problems have gone away.
Laura is able to diagnose the problem quickly and explain in simple terms why a particular behaviour has developed and what can be done to solve it. She has a wealth of knowledge and experience and we would recommend her to anybody needing help with their dog.
Richard & Terry Page
Staveley
Wonder Women of the Dog World!
We spoke to Laura about training before we picked up our 6-week old rescue puppy Snow, and she couldn't have been more helpful. She gave us hints and tips and made the first few days easier for us.
We started training in the garden, Laura listened to what we wanted to achieve and what was important to us. We were amazed how quickly Snow was picking up all the commands that Laura was giving. I truly believe this is because Laura knows dogs and knows what works for each dog as an individual.
Laura has given help and support with everything from, lead walking, recall, diet and behaviour. She has been very kind and helped our son to train Snow as well so that we can all work together as a family.
When we go away for a few days or a longer holiday Snow always goes to Laura's. We wouldn't trust anyone else with Snow and he absolutely loves going on his holidays to Laura's.
I can't recommend Laura enough and happily do so, without hesitation.
Jennifer Pearson
Staveley
Couldn't Ask For More!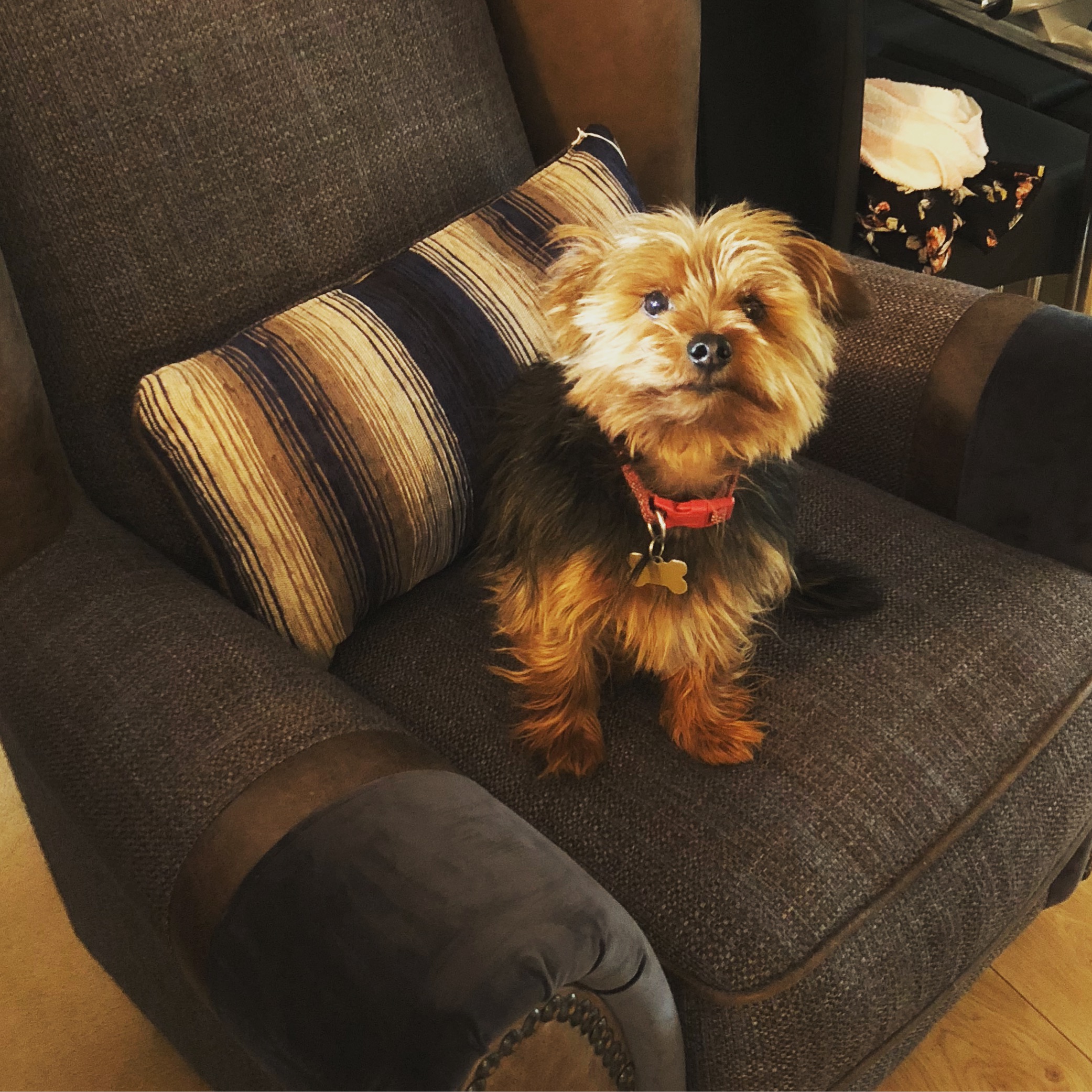 Our dogs, Timmy and Barney, have had a lovely holiday while we've been away and we (and the dogs!) can't thank Laura enough for her hospitality!
Timmy and Barney both enjoy their home comforts, and we were thrilled that we could leave them with Laura, knowing that they would be safe, warm, and happy in a home, with lots of human and dogs company!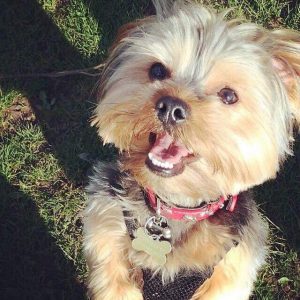 Laura (and Salty) met my mum and I with our dogs before we went away so she could get to know them and ensure they would be comfortable with her whilst we were gone. Timmy (who can sometimes be nervous around new people and dogs), and Barney both loved her straight away! We knew they would be absolutely fine in Laura's extremely capable hands!
When we returned, our dogs, although happy to see us, were in no rush to leave! They had clearly been loved and had settled really well into Laura's home which was lovely to see, particularly as they are usually very unsettled without us!
We can't thank Laura enough for her help! We wouldn't trust anyone else with our boys and are so thrilled we can now go away with total peace of mind (and I'm sure Timmy and Barney are very excited for their next visit)!
Gemma Buckley
Kendal
A Home From Home
Both my dogs, Ozzy & Nelly-Clegg, are rescue dogs. They were nervous being left anywhere without me, especially overnight. This would cause me a great deal of stress so I never left them. Then they started to stay with Laura! They are so happy there and I see pictures of them having fun and playing with the other dogs. I can now go away overnight or for, longer, holidays without worrying at all about my dogs. It really is a 'home from home' for them. Laura has also helped me with some problems I had with Nelly-Clegg as she was nervous of loud noises. This has now been resolved and has made her a much happier dog, especially on bonfire night! I would recommend Laura, without hesitation, for both her skills in correcting behavioural issues and for the warm and welcoming nature of her dog care services.
Caroline Gannnon
Staveley
Essential Professional Help For Us and Our Rescue Dog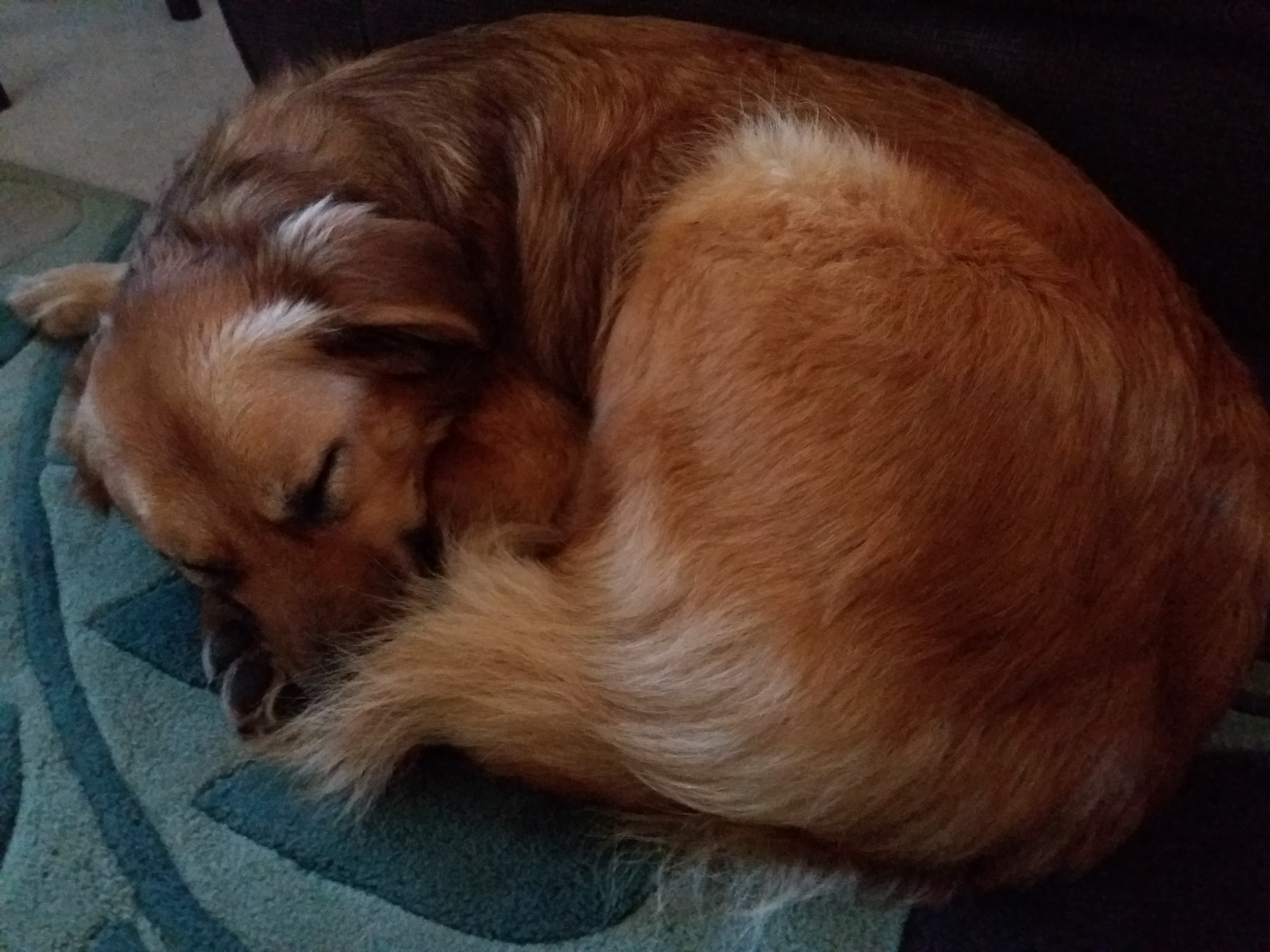 We are so happy we found Laura, she's taught us so much in such a short time, and instilled much confidence in us as dog owners.
We rescued a lovely 2+ year old German shepherd cross, who had never been trained to walk on a lead, had not been properly socialized with dogs or humans, and who had not experienced many of the sights and sounds of the environment outside the house. As a result she was very nervous when we got her, and as her owners we knew we also had a lot to learn in order to settle her and make her the family pet we wanted.
We had booked our first session with Laura for the day after bringing our dog home, but in the short time before this, we were already feeling stressed and overwhelmed with a strong dog that pulled on the lead, had disturbed sleep, and barked at other dogs and new people. So we were very ready for help!
After just her first consultation with us, where we chatted about what we wanted to achieve with our dog, Laura taught us how to behave calmly around our dog in the house and on walks; to set our house rules and implement them, she explained the dogs behaviour to us which helped us understand her and how to treat her. The change in our dog and our lives was instant, that night the dog slept through, we were empowered with new knowledge and walking her became manageable and continued to improve week on week. Laura had correctly assessed us and our dog within a few short sessions and gave us the tools to bring out the best in our dog.
A few months on and we have all bonded well, and we now have the happy, affectionate family dog we always wanted, and that's because of Laura's amazing help!
Crystal & Tom Gallagher
Staveley
Brilliant Support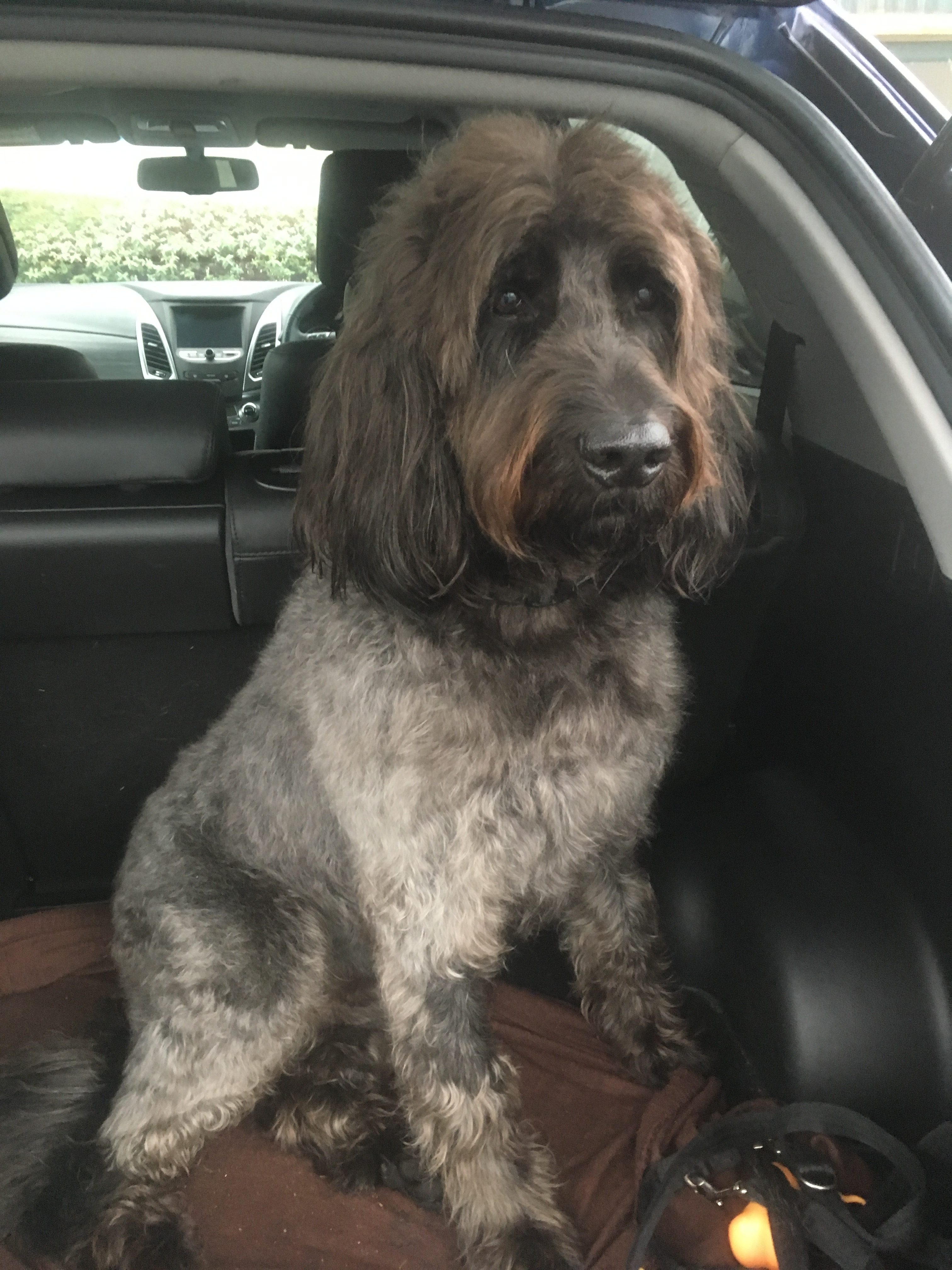 Laura is highly supportive and is able to correct poor behaviour in dogs very well. She has patience and perseverance and never gives up on a dog. Laura knows how to support the owner as much as the dog and always 'goes the extra mile' for all concerned.
She was able to correct antisocial behaviour in my eight year old labradoodle, making both my life and his much calmer and happier. His is now much easier to handle and I am far more relaxed when taking him for walks. I can now enjoy our outings rather than be constantly apprehensive about how he will react to other dogs.
Her support has been invaluable to me and I would unreservedly recommend her as she has an understanding of dogs (and owners) which results in very positive outcomes for all involved.
Hazel Agnew
Staveley
Expert & Supportive Advice
Laura gave me expert, supportive advice with my one year old, completely untrained border collie pup. She took me from the depths of despair with an animal which was out of control and taught me to understand my pup.
She showed me how my stresses and ways to deal with incidents could be resolved with a little guidance. Laura possesses abilities not seen in many. She understands dogs, whatever the breed, and knows what is required to alter undesirable behaviours. Laura continues to support me when issues arise.
My dog is now a well mannered, well behaved joy. I recommend Laura without a second thought to anyone who needs help and support with their dog. She is never judgmental and is only there to help.
Mrs H Johnston
Staveley